Our Surrender Process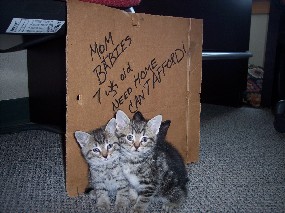 In order to place a dog or cat with Cascades Humane Society, you will first need to make an appointment. You can call (517) 787-7387*15 or email amoffitt@chspets.org for an appointment. CHS will test the pet to see how social and healthy it is. If the pet passes the test, CHS will take the pet as soon as it has an available cage for him.
What you need to bring to your appointment:
1. Any health records from the veterinarian pertaining to the animal(s) i.e. spay/neuter certificate, vaccination history, rabies certificate, pertinent health information and past medical history.
2. Any medications that the animal(s) may be taking including documentation from the veterinarian stating diagnosis and need for medication.
3. The animal's favorite toy, blanket or bed. This will ensure that the animals transition into the shelter and into the adopter's home is less stressful.
4. Your driver's license
There are Admission Fees:
Litter of kittens (minimum of 3 kittens): $55

Litter of puppies (minimum of 3 puppies): $65

CHS accepts Cash, Visa and Mastercard