Current Opportunities
Volunteer to help our cause today! If you are 16 years of age or older and love working with animals, this is the place for you! *Please note that all volunteers are required to complete 10 hours of housekeeping duties before volunteering in other areas of CHS.
CHS does not participate with court ordered community service.
Volunteering at CHS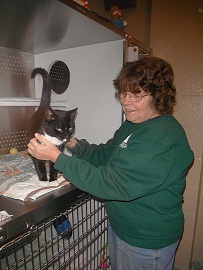 When you are ready to make a compassionate commitment to our animals, the first step is to attend a volunteer welcome meeting. Once you submit an application on-line, you will be linked to the next available volunteer welcome meeting dates and time.
Current Opportunities
Cascades Humane Society offers volunteers a wide range of opportunities to help our animals.
Volunteers are involved in virtually all aspects of CHS, from caring for animals to keeping up the grounds. Opportunities include:
• In-Shelter Care of Animals
• Dog Walking
• Housekeeping
• Foster Care
• Outreach
• Special Events
• Maintenance/Grounds
• Offsite Education
• Gardening Club
In-Shelter Care of Animals
Socializing and caring for the animals helps to make their stay here more enjoyable, making for happier, more adoptable animals. In-shelter care includes petting and playing with the dogs, walking the dogs, cleaning the kennels in the cat center and dog areas, petting the cats and grooming the cats and dogs.
Dog Walking
We try to get every available dog out on a walk at least twice a day. This is a great time to reinforce good manners and teach our dogs some skills like sit, stay and heel. Dog safety and handling training is required and provided.
Housekeeping
We require the help of many volunteers to keep our animals, their living spaces and our building clean. From sweeping and mopping to washing windows to laundry, we need volunteer help to keep CHS sparkling and beautiful for our animals.
Foster Care
CHS relies on the love and homes of our foster care volunteers when an animal is not quite ready for adoption. Foster volunteers open their homes to kittens that need time to grow, pregnant or nursing cats, dogs that need a little extra attention, or an animal recovering from an illness or injury.
Outreach
As an Outreach Volunteer, you will spend time educating the public about the shelter, answering questions about the available animals and showing the animals. Additional training is required and provided.
Special Events
CHS hosts special events and fundraisers throughout the year. These include Santa Paws, Paws and Claws, Paws in the Park and the Rose Parade. While working at an event, your responsibilities may include setting up the CHS area, staff an information booth, answer questions about the shelter, direct traffic through the event, and much more.
Maintenance/Grounds
CHS appreciates volunteer help with minor building repairs, painting, cleaning up, etc.
Gardening Club
With about 5 acres of grounds, there is always something that needs to be done outside during the warmer months.