Cat Care Tips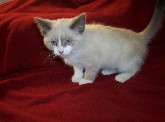 Introduce your new cat or kitten slowly to your other pets, especially another cat. They may not like each other at first. Isolate your new kitty from your other pets initially. A spare bedroom works well. Allow your pets to sniff and play "footsies" under the door. This allows your pets to get used to living with other animals while reducing the risks of them hurting one another.

There are no substitutes for exercise and good nutrition. Toys designed for cats and kittens provide exercise for your pet in addition to hours of entertainment for both the pet and owner.

Your veterinarian is your best source to keep your cat healthy. All kitties need an annual check-up, routine vaccinations, deworming and flea prevention.

Keep your litter box clean and accessible at all times. Do not change brands or litter types abruptly. Cats prefer to have the litter box separate from the food and water bowls. Also the laundry room often is a scary place for a kitty, due to loud noises associated with the washer and dryer. Keep your litter pan in a kitty friendly environment. Be sure to have enough litter boxers for each kitty plus one extra.

Indoor cats live longer than outdoor cats. Not only do you reduce your cat's risks of contracting diseases, parasites, or accidentally being injured, you can help them live longer by keeping them indoors.

Rub a scratching post in catnip. This makes it much more appealing to your cat than your couch or drapes. Do not spank your kitty for undesired behaviors; they do not understand why you are angry. If you catch your cat exhibiting undesirable behavior simply squirt the kitty with water when the cat is misbehaving.
For more great pet care advice visit the Humane Society of the United States Pets for Life Program.