VISION STATEMENT
A community in which all pets have loving homes and are treated with compassion and respect.
MISSION STATEMENT
Connecting animals in need with people who care.
CHS HOURS:
Tuesday-Saturday 12pm-6pm
Adoptions and visits end at 5:30pm
Closed Sunday and Monday
(517) 787-7387
Join us for a tail wagging good time at Jackson's only off leash dog park,
Paw Playground!
Paw Playground is located right next to our facility at 1515 Carmen Drive.
Simply, stop into our shelter to fill out a free membership form and join other dogs for some fun in the sun!
Open Dawn to Dusk.
Little Bit - By Kara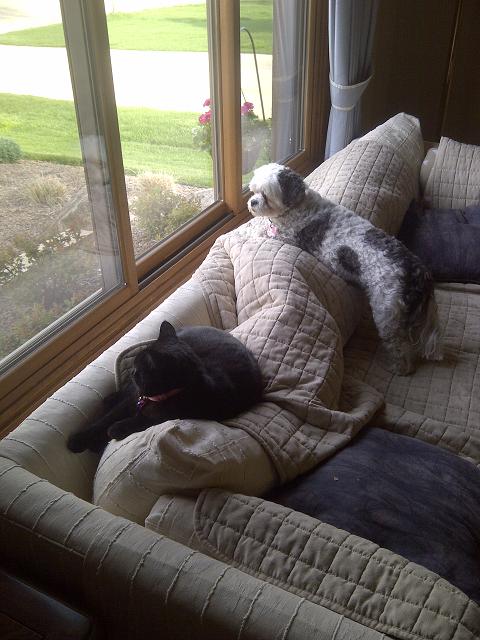 HAPPY TAIL – By Kara
When I adopted Little Bit, I was finishing up school at Albion College, and she was living with us in the apartment at school. When we adopted her, the plan was for my friend to keep Little Bit when I had to move back home after graduation. Well let me tell you... I've been moved back home for over a year and you can bet Little Bit is still with me
From the first day we brought her home from you guys, her and I had a very special bond. For the first day or two when she was adjusting, she would hide inside the automan of our chair, and she only came out when I was home and she could hear my voice. She became my shadow, and took a special liking to me. She quickly got over her hiding phase, and became a very happy, social and friendly kitty (she loved being in college, even helped me study). I never had a cat before; I was a dog girl, but oh how quickly that changed!!
Since moving home, she has completely stolen the hearts of my entire family (my dog included), who are people that never had any interest in cats, and now they cannot imagine what it would be like without her. Even my grandma, who you could say didn't like cats at all, now brings Little Bit a toy every time she comes to visit - she just loves her. My dad says that people always say they have the best pets, but Little Bit is just "so good and really something special." Since I brought Little Bit home, my older sister has gone and adopted two black cats from her local humane society - all thanks to Little Bit!
Her and my dog spend the day on the couch together looking out the window. Every day when I come home from work, Little Bit is sitting at the door waiting for me. She still is my shadow and follows me around everywhere (even sits outside of the shower and waits for me). We are absolute best friends, and she is so happy! For someone who was always more of a dog person, she has shed a very bright light. I know she was with you guys for so long, but I feel more than blessed that I was lucky enough to find her. We keep out the little bed and all her "favorite" toys you sent home with her, all of which she still plays with. Everything happens for a reason!
Rest assured she has found herself in a very loving home with a family who spoils her rotten. :)
Love,
Kara
For all current CHS job postings please click on the Job Postings tab.